Frank Scheffer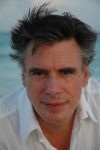 Biography
Frank Scheffer (b. 1956 in The Netherlands) is recognized internationally as a master of sound and image. He founded the Allegri Film Company, which specializes in documentaries on music and art. Scheffer was schooled at the Academy for Industrial Design (Eindhoven), the "Vrije Academie" Art College (Den Haag), where he studied with famous experimental filmmaker Frans Zwartjes, and is a graduate of the Dutch Film Academy (Amsterdam).
Early films include Zoetrope people (1982), a documentary on Francis Ford Coppola and the film studio he formed with Wim Wenders, Tom Waits, Vittorio Storraro and others, as well as documentaries on the Dalai Lama and various other social; and cultural subjects. In 1985 he directed the music video A day for the band XYMOX, leading him towards musical subjects. 1987 saw the release of his short experimental films Wagner's ring, a condensed version of Richard Wagner's opera 'The Ring of the Nibelungen' conceived with John Cage; and Stoperas 1/2 which was created to be shown with Cage's' Europeras 1 & 2'. His collaborations with Cage continued with the conceptual film Chessfilmnoise (1988), a documentary on Cage and Elliott Carter, Time is music (1988), and From zero (1995) in collaboration with Cage's assistant Andrew Culver.

Scheffer's films on music constitute an overview of the great composers of the 20th century — from The final chorale (1990) on Igor Stravinsky's Symphony of Wind Instruments conducted by Reinbert de Leeuw to Conducting Mahler (1996) on the famous 1995 Mahler Festival in Amsterdam with Bernard Haitink, Claudio Abbado, Riccardo Chailly, Riccardo Muti and Sir Simon Rattle, and The final chorale (1990) on Igor Stravinsky's Symphony of Wind Instruments conducted by Reinbert de Leeuw.

The history of Electronic Music, from Stockhausen to DJ Spooky and Squarepusher, was the subject of Sonic acts (1998), which was followed by three experimental projects searching for the influence of the digital medium in film and music: Sonic images (1998), Sonic fragments / The poetics of digital fragmentation (1999), and Sonic genetics (2000).

Scheffer also made several in depth films on specific composers, most notably Frank Zappa. Frank Zappa: the present day composer refuses to die (2000) was made in cooperation with the Zappa Family Trust and featured The Mothers of Invention, Pierre Boulez and Ensemble Modern. The 90-minute documentary feature Frank Zappa: phase II, the big note (2002) was followed by a two part series Frank Zappa: a pioneer of the future of music, part 1&2. This 'work in process' based on Zappa's idea of 'conceptual continuity' will be completed with a two hour cinema-version.

Additionally, Scheffer has been following and filming Elliott Carter for 25 years; this culminated in a two part series for television, A labyrinth of memory (2003), and the feature length documentary A labyrinth of time (2004), a unique portrait on the composer as well as an overview of the history of modernism in the 20th century.
A feature documentary on composer Edgard Varése and a feature documentary on the Tehran Symphony Orchestra and its chief conductor Nader Mashayeki are planned. Currently he is writing a script for a trilogy based in China concerning the philosophy of Confucius and Lao-Tze. In the future a dramatic feature based on The Zauberflote composed by Wolgang Amadeus Mozart is planned. In addition to numerous critical and festival awards, Scheffer was honored with a complete retrospective of his films at the 2001 Holland Festival.